7025 E. Michigan Ave., Suite A3
Saline, MI 48176
734-429-2900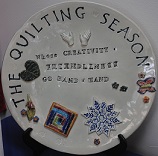 Hours:
Monday:10AM-8PM
Tuesday:10AM-5PM
Wednesday:10AM-8PM
Thursday-Saturday:10AM-5PM
Sunday:1PM-5PM
The Quilting Season is all about creating an inviting quilting and sewing community here in our shop. Everyone is welcome & we love helping you! We offer a varied selection of quilting fabrics, notions, and patterns as well as many classes for all levels of skill. We offer Long Arm Quilting Services and personal quilting coaches. We have open sew many days a week where you can bring your sewing machine and current project to the store. We believe in passing on the legacy of quilting by offering our History Block-of-the-Month series, and we are always ready to help others in our community. We are a hub for pillowcase making for the children of C.S Mott Children's Hospital, and we sew little scrubs for the soft rag dolls used for medical play and education at Mott. We collect preemie quilts and blankets for Saint Joseph Mercy Health System in Ann Arbor, and we are a drop-off site for basic items needed by Saline Area Social Service (SASS).